Reed Becomes Vice Mayor After Prola Snubbed | Old School Ron's Broken Promise | Student's Cross To Bear? | Bring America's Cup to the Marina
When San Leandro Mayor
Tony Santos
looked down to see the outcome of the vote nominating Councilman
Jim Prola
to be the next vice mayor, he let out a surprised, "ohhhh" upon seeing members
Joyce Starosciak
,
Diana Souza
,
Ursula Reed
and
Bill Stephens
had blocked the motion. The turn of events not only surprised Santos, but the few audience members remaining looking astonished. After Councilman
Michael Gregory
's motion had failed, Stephens offered up Reed, who was unanimously approved to take the year-long position previously held by Starosciak. Prola told
The Citizen
the snub did not bother him, nor did he pursue the ceremonial post. He said, afterwards, he had attempted to gather votes for Gregory, but fell short. Denying a councilmember the vice mayor position is unusual, but occurred in the approval of Stephens a few years back. According those on the board at the time, though, the reasoning revolved around respecting Stephens' seniority on the council rather than last night's decision which appears to be purely political. Reed becomes vice mayor as the council's junior member. She was elected in 2008. Her District 2 now has held the vice mayorship for three of the last four yours after former member
Surlene Grant
(file that name away for another day)
held the title for two years before leaving because of term limits. The position is not much more than a fancy honorific lending itself to a higher profile in representing the city, but the elevation of Reed is yet another chess move among councilmembers dividing loyalties between mayoral candidates Santos, Starosciak and whomever now-rumored, enters the race. There does not appear to be support among any councilmembers for the other candidate
Stephen Cassidy
, who derives most of his support from the city's school board. Going into last night's vote, there were indications, either Prola or Reed were the most realistic choices to replace Starosciak since two members were up for re-election and another is being termed-out. To highlight the growing animosity between the two candidates, Santos said earlier this month that in no uncertain terms did he want Starosciak spending a second year as vice mayor during an election year. Reed's election appeared to have caught even her by surprise. At one point after the unanimous vote, Starosciak, who sits next to Reed, had to whisper to her, "say yes" when offered the position. She eventually accepted and when Prola later referred to her as "Vice Mayor Reed" she feigned surprise and said, "It's going to take time getting use to hearing that."
************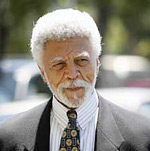 EVERYBODY'S GOT MONEY PROBLEMS
News reports last week, skewered Oakland Mayor
Ron Dellums
for apparently reneging on a promise last year
to take a 10 percent pay cut
. It seems like the liberal lion can't because he needs the money. Dellums took a similar hit to his checkbook earlier this year when it was reported he and his wife owe the Internal Revenue Services $252,000 in back taxes. Politicians taking a cut in pay in solidarity with city workers is nothing new. Stephen Cassidy has repeatedly asked the mayor to take a pay cut along with council and some members have voiced a willingness to go along, but the city attorney ruled in February any change in pay needed to be phased in as councilmember come and go. For his part, Cassidy says he will not accept a salary if elected mayor in November, that is, until the city's budget woes are cured.
************
LOOK BOTH WAYS, CHILDREN
No other issue facing the city last year raised more hackles than the cutting of school crossing guards. Parents were outraged to arrive on the first day of school last August to find the guards missing from their street corner posts. Residents volunteered to help children get safely to school and others successfully lobbied the city and San Leandro Unified School District to split the roughly $50,000 cost of reinstituting the program for the 2009-10 school year. So, what about the next school year? Surprisingly, the hue and cry was not vociferous enough for the city. Early drafts of the city's budget for the next fiscal year allocate zero dollars to school crossing guards. Cassidy noted the lack of funding last week to a joint meeting of the council and school board wondering why such a small amount of funding could not be found in the $68 million budget. Santos told
The Citizen
the budget is still in the earlier stages and will appropriate funding to the program. But, time is running out.
************
DON'T BE A DINGHY, SAN LEANDRO
Councilman Prola has been known to check whether boats parked in the San Leandro Marina have paid their fees. Many residents have argued too many of those vessels do not benefit San Leandro coffers and represent out-of-towners getting a free ride. What if the city were to piggy-back
Alameda's offer to the Golden gate Yacht Club
to house boats and patrons for a possible defense of the America's Cup in the Bay? The competition for the world's oldest contested competition is still 3-4 years away, but think about the demographic of those who enjoy the sport. The amount of revenue from such an event would do more than "anchor" the city and do brisk business for retailers selling those white sailor's caps and monogrammed blue blazers. The competition not only encomposses the America's Cup, but also the challenger's series of which numerous syndicates from many countries will vie to race billionaire
Larry Ellison
's yacht for the Cup. Teams need a place to stage their operations, repair boats, practice navigating the Bay waters, restaurants to eat and lodging for the month-long competition. Although the East Bay could attract some business for a possible Super Bowl in Santa Clara, if a new stadium is approved, Oakland's chances to host possible World Cup games in 2020 were eliminated recently from the U.S. Soccer's bid to FIFA, making the America's Cup the most likely sporting opportunity for the city to reap revenue for years to come .Alameda has put a plan forward, it's time for San Leandro to get on board.
-S.T.
JOIN THE REVOLUTION! www.eastbaycitizen.com