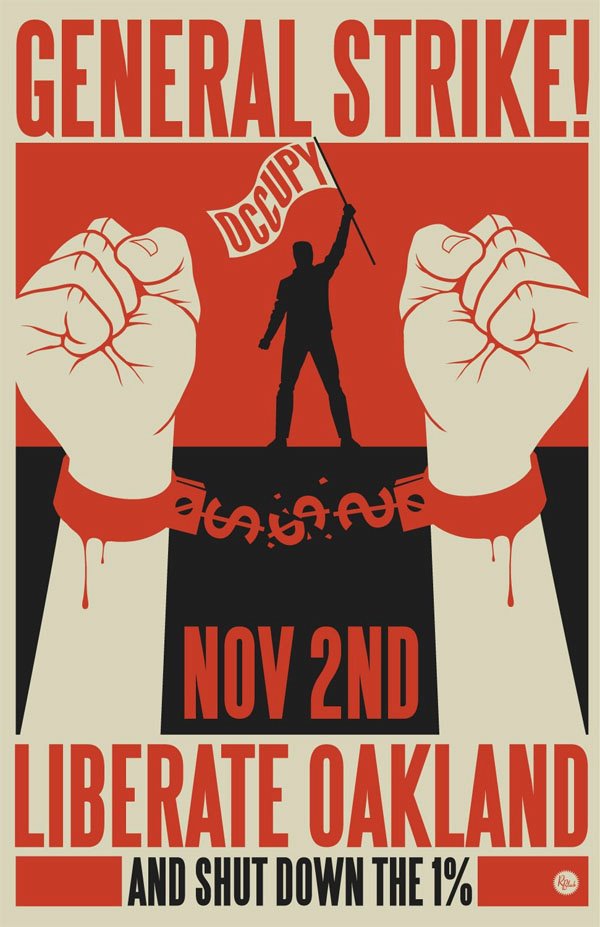 OAKLAND | Oct. 31, 2011 | Organizers for the Occupy Oakland movement announced specifics on the group's ambitious general strike scheduled for Wednesday, Nov. 2.
In addition to cultural events at Frank Ogawa Plaza in front of Oakland City Hall starting at 9 a.m., a slew of marches and protests is planned. The entire day of protest will culminate in a march to the Port of Oakland, starting at 5 p.m.
Protesters hope to hit corporations squarely in the pocket book by bringing the port's operations to a standstill before the 7 p.m. night shift begins, organizers said.
"This is a warning shot at the one percent," said Oakland activist and recording artist Boots Riley. The march could attract thousands or even "tens of thousands," said Riley, who also hopes "police will not stop democracy."
The reason for the general strike is simple, protesters say. "We know the wealth of the 1 percent is from the work of the 99 percent," said a union leader.
The Port of Oakland is one of the largest shipping destinations on the West Coast.
A Oakland homeowner and protester described her current mortgage troubles with Chase Bank during a press conference in Latham Square this evening. "I need my house more than they need one more," she said.
Occupy Oakland also warned schools and employers not hinder the ability of students and workers to participate in the general strike, the first in the city since 1946, or risk being "occupied" by protesters.