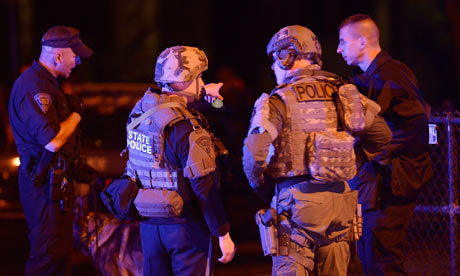 SUNDAY COLUMN | Two men in Oakland Athletics jersey, backpacks strapped to their bodies mill around thousands of A's fans patiently lined up outside the O.co Coliseum in anticipation of a popular bobblehead promotion. Fans love the promotion and wait for hours before the gates open in lines that wrap around the stadium. But, before fans can get their hands on the Reggie Jackson bobblehead, bombs scream out every jam-packed entrance. Horrific screams follow and thousands wildly flee the area. The Coliseum BART station is shutdown. Interstate 880 is closed and authorities are on the way.

However, the assailants escape and law enforcement's dragnet over the city proves fruitless until reports of two men, somewhat resembling photos distributed in the media, are seen carjacking a vehicle on East 14th Street in San Leandro. The pair kills a woman near the Walmart on Hesperian Boulevard and witnesses tell police the two men are seen near a drainage ditch in Hayward near the sprawling auto auction near Whipple Road. The events are fictional, but in light of the dramatic Boston Marathon bombings this week and the death and capture of two suspects, such stories are becoming less Hollywood-like and more real life every day.

How a crazy-quilt of law enforcement entities joined forces to catch Dzohkar Tsarnaev Friday night will be the subject of analysis for months, however, if the same chain of events that occurred in Boston, or even the tale described above, were to occur in the East Bay, it is highly unlikely law enforcement would be able to respond to such a crisis. While public safety agencies in the entire East Bay possess the ability to communicate via the airwaves, Oakland is its own island when it comes to radio communications.

Due to stubbornness, a lack of leadership and cost-efficiency lost to poor decision-making, Oakland's aging radio system is unable to plug itself into the modern, more nimble East Bay Regional Communication System (EBRCS).

In light of the Boston Marathon bombing, Oakland's continued foot-dragging on either finding a suitable go-around or ditching its current system and recognizing it was a $18 million mistake puts this region in danger. In terms of the Coliseum scenario, and specifically, the chain of events that followed, police officers in San Leandro and Hayward would be able to seamlessly communicate through EBRCS, but the Oakland cops would be in the dark.

Of course, in such a situation, the California Highway Patrol, Alameda County Sheriff's Department and FBI would be on board, but when seconds could mean life or death for officers or the public, how could one of the largest police forces in the county be nimble enough to solve the crimes if their radio are incompatible to every other jurisdiction?

And while a terrorist event in the East Bay is possible, but unlikely, the threat of a catastrophic earthquake in the region will, indeed, happen sometime in the next 20 years or today or tomorrow. In fact, tremors are a fact of life in California and we deal with the matter with typical Golden State gallows humor. But, if the big one hits or a band of bad guys raise significant havoc spilling over numerous jurisdictions, the finger pointing at Oakland will be incessant. The events in Boston make it clear that Oakland must get with the program and embrace EBRCS now.

Quotable
"We need to spend money to audit the auditor's audits."
-Desley Brooks, Oakland councilmember, Apr. 16, again challenging the authority and lack of evidence against her in Oakland City Auditor Courtney Ruby's report alleging Brooks violated the city charter on 12 separate occurrences.

The Week That Was

Torricos campaigning for state
attorney general in 2010.
>>>By and large California Democrats behaved themselves at last week's state convention, but former Assemblyman Alberto Torrico's wife
put up her dukes
in a fight with Fremont Assemblyman Bob Wieckowski's chief of staff at a luncheon last Saturday. The catfight is just another strange instance indicating Wieckowski, a two-term assemblyman angling for a seat in the State Senate next year, is losing control of his district.
>>>In Oakland, Mayor Jean Quan presented the City Council with a budget proposal that would add more police officers to the struggling department over the next three years. The City Council chided Quan and the city administrator's office for
failing to comply
with a federal judge's ruling for dealing with citizens complaints against OPD. And, Councilmember Noel Gallo
asked
the council to confront the allegations contained in a city auditor's report charging Councilmembers Desley Brooks and Larry Reid with violating the city charter's non-interference laws on 14 occasions between them.
>>> Some Hayward school board member want their former colleague, Jesus Armas, who chose to not seek re-election last year after being caught in a extramarital affair with a fellow board member, to be
replaced
on the city redevelopment successor agency, but the official who placed him on the oversight committee last year, Alameda County Superintendent of Schools Sheila Jordan says no. She later compares Armas to Bill Clinton in both their dirty deed and their ability to maintain a semblance of gravitas afterwards. The Hayward City Council also officially did away with red-light cameras, that the police chief and council agreed were ineffective. They come down May 1.
>>>Berkeley's gain is Hayward's loss. After poaching numerous city administrators from neighboring East Bay over the last two years, Hayward learned its relatively new school superintendent is the
top choice
for the same position in Berkeley. Dr. Donald Evans's accomplishments during his brief 18 months in Hayward are scant and his decision to jump ship is raising some eyebrows in Hayward where improving Alameda County's lowest-performing school district seemed like a ticket for any administrator to parlay into bigger things.
Tweet of the Week
"I've been around for a long time, and there's still those weeks when it seems as if all hell breaks loose. Good night Alameda, and be safe."
@ParkStBridge
, the wise bridge connecting Alameda to Oakland tweets, Apr. 17, following bombings in Boston this week.
Best Read
>>>Term limits were enacted in California to drive the career politicians and dead weight out of Sacramento. Instead, they may be fostering people like Bill Lockyer to eventually run for every state office available Up next for Lockyer: state controller in 2014. (
Fox & Hounds, Apr. 15
).
Voice of the People
"Lockyer should know all about having ones head up someone's ass. That's where his head has been for some time now. Look at your wife Nadia and all the problems YOU have caused Bill. I once was proud to be a democrat, but not anymore."
-
Anonymous
, Apr. 17, commenting on Bill Lockyer's Top 10 list last week mocking California Republicans on "
Lockyer Diagnoses California GOP With 'Head Up Ass Syndrome'
".